The HumanListening and Intuify Partnership
HumanListening has partnered with US-based market research firm Intuify to reinvigorate the survey experience.
With all new intuitive question interfaces that increase survey engagement, our partnership allows us to provide cognitively-optimized research solutions that yield deeper insights than ever before.
Accessing the preconscious through intuitive and engaging question interfaces
Intuify is a US-based market research firm specializing in delivering customer insights using cognitively optimized survey technology that enhances engagement, response depth, and overall data quality. Our technology reinvigorates the survey experience, extracting hidden drivers of consumer behavior that normal surveys couldn't reach
Intuify's advanced survey technology prioritizes the mobile user with intuitive, easy-to-use question interfaces that are optimized for any mobile device. These interfaces transform pre-existing question formats such as a grid matrix, and turns them into dynamic mobile swiping, tapping and dragging, and much more. On top of seamless answering, we've integrated visual stimulants to further increase engagement and higher quality data.
​
On top of enhancing the survey experience, we also aim to obtain qualitative insights on a quantitative scale. With our voice-optimized questions, respondents can share triple the amount of insights that they would by simply typing their answers. All this without additional software or peripherals.
​
Through our approach, we we're able to unlock the hidden drivers of consumer behavior and provide a platform where customers feel compelled to share their genuine thoughts and emotions.
​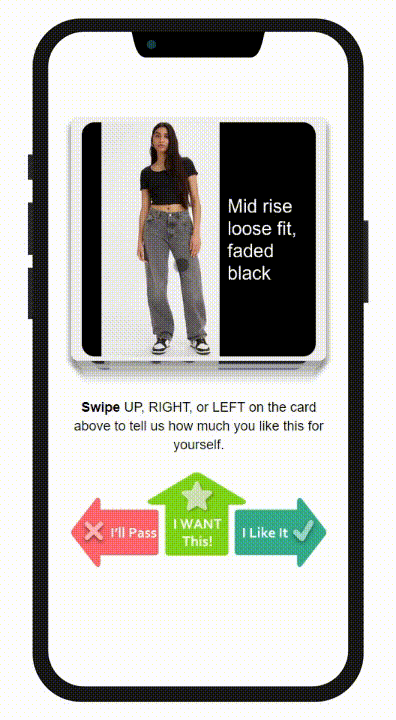 A sample of one of Intuify's many survey interfaces, which is designed to replace a traditional grid question.
How does HumanListening work with Intuify?
By partnering with HumanListening, we are able to utilize our interfaces on a flexible platform, allowing for an array of market research projects to be executed. From "Jobs to Be Done" studies, to Path to Purchases and more, the research possibilities are endless with HumanListening and Intuify.
Intuify's Jobs to be Done research reveals the deeper needs of customers by understanding the specific 'jobs' they 'hire' products or services to perform. This insight allows businesses to innovate purposefully, aligning their offerings with genuine customer desires and ensuring sustained growth.
Brand Positioning and Brand Health
Intuify's Brand Positioning and Health research provides an in-depth analysis of a brand's standing in the market by examining customer feedback, perceptions, trends, and competitor activity. This comprehensive evaluation allows businesses to understand their brand's current status, enabling them to adjust marketing strategies, identify growth opportunities, and address potential risks, paving the way for informed future decisions.
Concept and Message Testing
Intuify's Concept and Message Testing evaluates the effectiveness of marketing materials using advanced analytics, assessing factors like audience engagement and comprehension. This insight allows businesses to refine and optimize their messages, ensuring they resonate with their target audience.
Intuify's Customer Journey Mapping delves deep into every customer interaction, illuminating emotional touchpoints and critical moments, to enhance engagement and optimize conversion opportunities. This in-depth analysis aids businesses in crafting impactful, customer-centric strategies.
Intuify's Path to Purchase research provides a detailed understanding of customers' buying processes, highlighting every stage from initial awareness to post-purchase behavior. This insight aids businesses in optimizing touchpoints and tailoring strategies for a seamless buying experience, ensuring effective guidance in today's intricate purchasing landscape.
Segmentation and Personas
Intuify's Customer Segmentation and Personas deliverable provides a detailed view of your customer base by creating in-depth personas, highlighting unique characteristics and preferences. This enables businesses to craft targeted marketing strategies, enhancing engagement and promoting growth in today's personalized market landscape.
Visit the Intuify website to learn more about what they do.